"Taking the work out of your paperwork. And the paper. And the pen."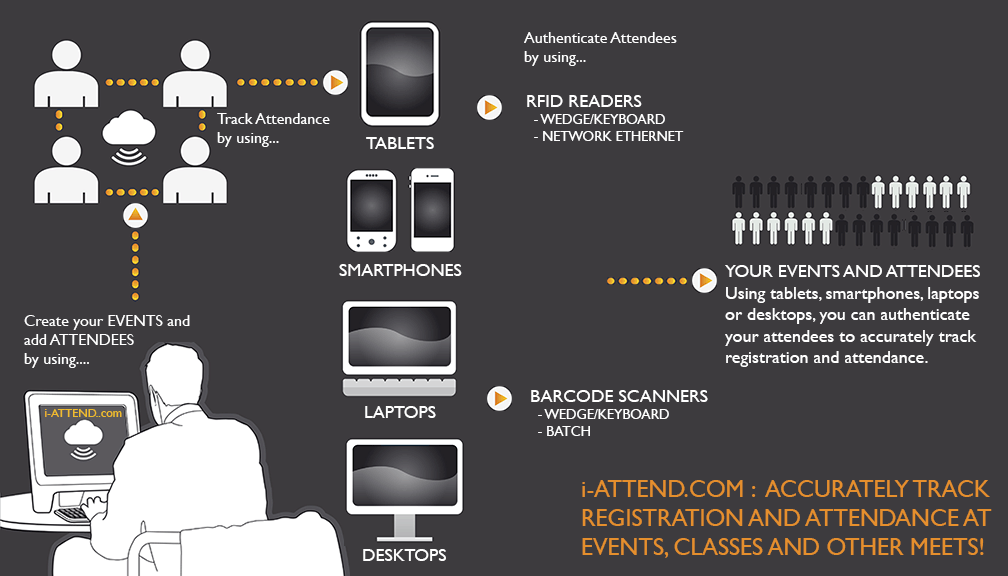 ATTENDANCE TRACKING SOFTWARE
ATTENDANCE SOFTWARE FOR SCHOOLS  AND SCHOOL DISTRICTS
Attendance Tracking Software is used to keep tracking attendance of students - their classes and activities. Students can use their student IDs to authenticate and check-in.  i-Attend is used to manage attendance records, generate reports and analyze attendance patterns. It can also be used to send notifications and reminders about upcoming classes and activities. Student Attendance Tracking Software can also be used to monitor tardiness, absence and more. The software is a great tool for monitoring student's overall performance in school or college.

Faculty, teachers and school administrators also utilize attendance tracker for attendance capture of training, continuing education and staff meetings. Attendance tracking is an important part of any school system. It allows faculty, teachers and administrators to monitor attendance and ensure that students are attending classes on a regular basis. It also helps them identify areas where attendance could be improved, allowing them to take appropriate measures to increase student engagement. Additionally, it allows for the detection of truancy and other issues related to chronic absenteeism. With a i-Attend attendance tracker, schools can keep accurate records of when and where students are absent or late so that they can be addressed in a timely manner.
EMPLOYEE ATTENDANCE, CERTIFICATES AND EVALUATIONS FOR PROFESSIONAL DEVELOPMENT ORGANIZATIONS 
Hospitals, law offices, healthcare facilities, accounting and real-estate offices use Attendance Tracking Software for their continuing education and professional development programs for staff.

i-Attend is used to track attendance for seminars, conferences, workshops, and other professional development activities. It can also be used to verify that staff are attending mandatory training sessions or courses. Attendance tracking software can also be used to monitor performance and progress of employees, as well as provide proof of completion for certification programs. This type of software helps employers ensure compliance with continuing education and professional development requirements set by governing bodies or regulatory agencies. 
ATTENDANCE SOFTWARE, REGISTRATION AND NAME BADGES FOR CONFERENCES AND EVENTS
i-Attend is used to automate the registration, check-in, and attendance tracking processes for conferences and trade shows. It enables organizers to print badges quickly and efficiently, ensuring that everyone attending the event is properly identified. Event Management software also includes features such as reporting, attendee registration, certificate distribution, and evaluation. These tools help organizers manage their events more effectively and gain insights into how their attendees are engaging with their events. This attendance software comes with mobile apps that allow information broadcast and makes tracking attendance more efficient.

Event Organizers deploy i-Attend for badge creation, registration, attendance tracking for their conferences and trade shows. The combined flexibility and mobility brought by i-Attend Cloud, Capture app, Self Check-In app and TAP app is a powerful toolset for any organizers regardless of size and complexity of event.
AUTOMATE EMPLOYEE ATTENDANCE FOR OSHA COMPLIANCE SAFETY TRAINING
In 1970, Congress established the Occupational Safety and Health Administration (OSHA) to guarantee secure and salutary working conditions for staff members by setting up regulations and executing them, in addition to offering education and teaching. Manufacturers make use of Attendance Tracking System to keep an eye on attendance for OSHA conformance and reporting. Attendance Tracking Software supplies the capability to precisely monitor attendance for obligatory safety training classes. 

i-Attend makes it possible to track and record employee's attendance in a variety of formats including hours worked, days off, holidays, and absences. It also allows managers to keep track of employee attendance records over a set period of time. This software can be used to quickly identify trends in employee absences or tardiness and take corrective action if needed. It also helps employers verify that employees are meeting their required safety training requirements.